SOVIET AND RUSSIAN SCALE MODELS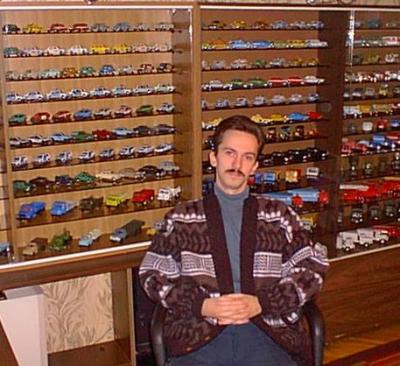 Dear frands!
I wants to tell about rassian scalemodels of all marks of soviet automobiles produced since a 1912. At first I will tell about serial models. In main it's issue by factory "Radon" in Marks and "Tantal" in Saratov. There are different models. Usual "Moscvich", at which you can open only bonnet - engine shown conditionally, "Volga" at which the engine, gimbals, accumulator, windscreen wipers, lighting, etc. are make in details. The models of ZIL 115 and ZIL 117- cars of the high government officials-are very elegant. Kazan issues perfect models "Kamaz" is models of high accuracy, all possible details (even sprockets worked turn). It cares a special attention of the Leningrad's models of firefighter specialized cars on base of ZIS (1937) - It's very effective. With confidence it is possible to say, that soviet car models are the best all over the world. It is easy to explain. Car models developed and were going as production at the military enterprises (in main on production of radio details). Now, then public contract on military production is absent, the workers do not receive the salary, and main source of their income - realization of models through Moscow. Now I will tell about hand made models. It made in Moscow, Herson, Ekaterinburg, Kiev - but all of it in main arrives to Moscow. The quality of models can be various: the model can not have some details: for example opening doors, however it can look very effectively, be qualitatively painted. Many collectors in Moscow are prefer models without opening details, as there is a risk to damage a paint. It is possible also to order super complex models numbering about 300 details. It is mainly models of lorries. It is possible to order both set of details or complete model. Same of them you may to see in
catalog.
I hope you will get interesting and useful information and it help you to collect a beautiful collection. Good luck!
Vadim Diatlenko